"When young, [circus elephants] are attached by heavy chains to large stakes driven deep into the ground. They pull and yank and strain and struggle, but the chain is too strong, the stake too rooted. One day they give up, having learned that they cannot pull free, and from that day forward they can be "chained" with a slender rope. When this enormous animal feels any resistance, though it has the strength to pull the whole circus tent over, it stops trying. Because it believes it cannot, it cannot."
Gavin de Becker, explaining learned helplessess
I realized the other day why I like Vladimir Putin, the man lives his life like he's in a Guy Ritchie movie. That and because the former KGB Colonel reminds me of a certain former US Army Colonel.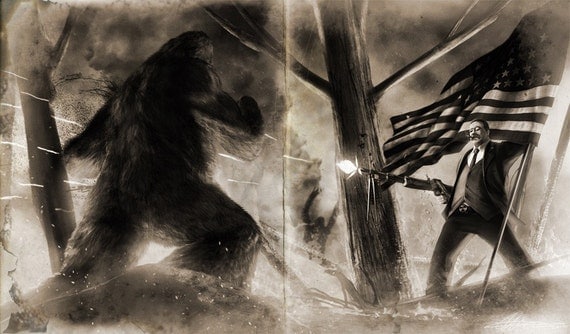 Neither Putin nor TR, I'm certain, would let this whole debt ceiling business drag on like the Obama crew has, just as White House let it drag on in January and in 2011. Each time they give in, they're just scheduling the time and place of their next surrender. "Nature, red in tooth and claw" is the reason why, (as Reagan taught us), sane people taking walks in the woods carry guns. That is a lesson the Administration has yet to grasp. One consequence of the Obama Administration being the worst negotiators in the world (some days Lambert Strecher's theory they actually want to lose makes the most sense) is it gives aid and comfort to, well, foreigners we're negotiating with. Did anyone doubt that Putin would end up eating Obama's lunch on the Ed Snowden issue? Of course not.
Vis-à-vis the trillion dollar coin and the other tools the White House and Treasury have to un-screw the pooch, I I really don't have much to add to what we've hashed over many times here— I feel like we're taking bets on the last Super Bowl– but Dylan Matthews tweeted something (or, rather, linked to something) earlier that bugged me to no end. It was about a Politico op-ed, One way out on the debt ceiling, by Geithner's Treasury chief of staff, Mark Patterson. Let me summarize, Please. Don't. Hurt. Me. (the "one way" is Congress must vote to raise debt ceiling). If you're going into Bigfoot-infested woods and your contingency plan is Bigfoot must leave you alone, I'm of the opinion that's a pretty half-assed plan.
I fear the Obama White House is, at this very moment, hard at work thinking of bold, innovative ways to undercut Democrats in Senate by selling out spectacularly. The real problem for Democrats (which I'm not, I actually voted for Romney) is that except for Nixon, Obama is the only president to ever wreck his second term before he was even re-inaugurated. His New Year's Eve fiscal cliff deal extended 3/4ths of the temporary Bush tax cuts permanently. That was the leverage, the only leverage, Obama had to get anything done in his second term (if the tax cuts were to expire every year or so, he could trade away the extension for something he wanted). Once Obama agreed that his team would not cross the 50 yard line, why is anyone surprised they're stuck (and will remain stuck) playing defense?