Prince Alwaleed bin Talal, the billionaire Saudi Arabian investor, has warned that his country's oil-dependent economy is increasingly vulnerable to competition from the US shale revolution, setting him at odds with his country's oil ministry and Opec officials.

In an open letter addressed to Ali Naimi, the Saudi oil minister, the prince called on the government to accelerate plans to diversify the economy….
Alwaleed warns of US shale danger to Saudi
Dear Prince Alwaleed,
I have an idea. The Kingdom should ask Uncle Sam for the national Hyperloop franchise, build it, operate it, then profit. If the quarter of a trillion in T-bonds OPEC nations hold isn't enough, Japan holds a trillion in T-bonds and those guys know how to run a railroad (and build one too). I figure the route map of the Saudi American Hyperline would look something like is (bear in mind, every double track line is a sort a loop, just a question of how far apart you set the tracks).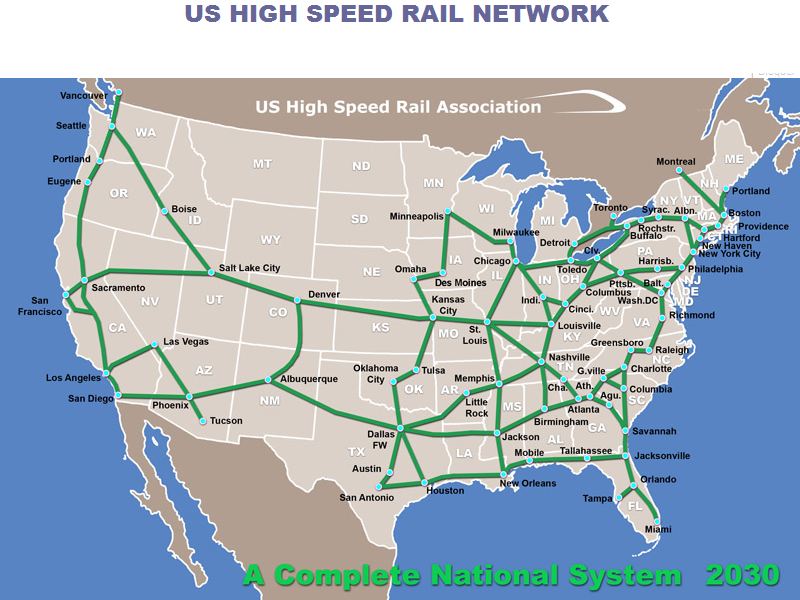 Its an inherently (if uniquely) guaranteed investment because you have an automatic put option. Here's where the magic happens, the President has the authority under the Trading with the Enemy Act of 1917 to block, unwind, take over or force any contract or transaction involving a foreign power. Essentially, if the Hyperloop turns out to be a white elephant, whenever you want out just threaten America (by which I mean airquotes "threaten", don't start a war or anything) and the President would be more or less obliged to buy it from you at market price, which could be whatever you and the President have previously agreed is "market price". I'd suggest the strike price as whatever your investment would be worth at time of sale if it had been left in Treasuries. National Defense eminent domain powers as a tool to create synthetically risk-free investments, I'm sure someone's written a paper on this.
Now the US Government could easily build out a national Hyperloop system itself, no doubt, but let's face it, we are a Republic governed by incompetents. The grownups all left years ago. If we were a small country we'd be invaded, if we were an island we'd drown, if we were a mountain kingdom we'd all die in an avalanche. Its no coincidence our space program stopped going to moon about the time the Nazi scientists we hired started retiring. You want to diversify away from oil, arbitrage our stupidity. The point is, we are an absurdly rich country, as Mike Sankowski reminded me this morning, the US holds $128 trillion in oil & gas assets on public lands, public assets worth 8 times as much as our public debt. Have you heard any American public official, ever, make this point? Of course not, because that would not be how a stupid person thinks. We could sell hypothecate future oil & gas earnings (Texas Tea Bonds, ha) and pay off the public debt, build the Hyperloop and get around to rechanneling Canadian rivers from the Arctic Ocean towards Las Vegas, where they belong. I suppose we could go ahead and fix our crumbling infrastructure while we're at it, but let's not go crazy.
We could do all of this and more but we'll end up doing nothing for one simple reasons, incompetent leadership. Listen to me, Prince Alwaleed, arbitrage our stupidity. If you understand, and I know you do, that there are national assets as well as national debts, you already know more about public finance than most congressmen. You'd be doing my country a favor if you took advantage of these rubes as I've suggested above. Elon Musk (who's absolutely disqualified for high office on grounds he's not stupid) has said he'll release Hyperloop details on August 12. Get on board, Prince Alwaleed.